Sunlight is one of the basic weaknesses of all Shiki's except for the
Werewolf
's.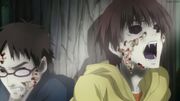 The first human who noticed that Shiki's can burn in anime was Toshio Ozaki. In episode 14 during the daylight, he noticed that the dead body of his wife stated to burn. He quickly took her away to operatuib room where there was no sunlight. In the first OVA episode when the Humans ran out of their Stakes, they had an idea to pull all last Shikis from the pipelines outside. When sun got up all the Shikis from the pipelines started burn.
Ad blocker interference detected!
Wikia is a free-to-use site that makes money from advertising. We have a modified experience for viewers using ad blockers

Wikia is not accessible if you've made further modifications. Remove the custom ad blocker rule(s) and the page will load as expected.