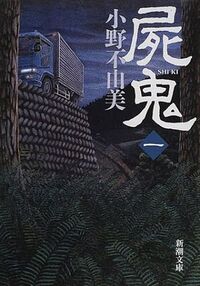 Shiki
(屍鬼, meaning Corpse Demon) is a horror novel by Japanese novelist
Fuyumi Ono
, originally published in two parts by Shinchosha in 1998. It was later reprinted in five parts in 2002.
The novel was inspiration for the extensive Shiki manga series published by Shueisha from 2007-2011 and the Shiki anime series created by the studio Daume which broadcast 22 episodes and released 2 extras on DVD.
Ad blocker interference detected!
Wikia is a free-to-use site that makes money from advertising. We have a modified experience for viewers using ad blockers

Wikia is not accessible if you've made further modifications. Remove the custom ad blocker rule(s) and the page will load as expected.